Akins Ford near Atlanta GA Taking All-New Ford F-150 Diesel Orders Now
By Admin | Posted in Ford F-150, Release date on Friday, March 16th, 2018 at 8:00 am
2018 Ford F-150 Diesel Available Now at Akins Ford near Atlanta GA
Right before the 2018 model year rolled around, Ford put all other pickup truck lineups on notice with the announcement that an all-new diesel engine option was coming to the 2018 Ford F-150 lineup for the first time ever. After a ton of initial excitement, the focus then turned to the rest of the all-new Ford F-150 lineup as it was released upon the world. But the 2018 Ford F-150 Diesel is back at the forefront once again as it is now available at Akins Ford near Atlanta, GA.
[ READ MORE: Motor Trend Names 2018 Ford F-150 Truck of the Year ]
How Can I Get Behind the Wheel of an All-New 2018 Ford F-150 Diesel Model?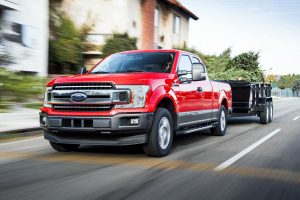 We may have gotten a little over-excited when we told you the 2018 Ford F-150 Diesel model is now available at Akins Ford near Atlanta, GA. That's because it's not exactly on our lot just yet, but we are taking orders for the new Ford F-150 Diesel at Akins Ford near Atlanta, GA, right now. Those orders, along with the rest of the 2018 F-150 Diesel lineup, will arrive this spring.
What are the Best-in-Class Features and Capabilities of the All-New Ford F-150 Diesel Lineup?
The 2018 model year is the first year you'll be able to get a diesel engine under the hood of your new Ford F-150, and Ford is celebrating that momentous event by giving you the most powerful and capable diesel engine in the segment. More specifically, you'll get an all-new 3.0-liter Power Stroke V6 diesel engine that was built by the same geniuses who built the Super Duty lineup's 6.7-liter Power Stroke diesel engine. And as we mentioned, this all-new diesel engine provides best-in-class power and capability ratings for torque and towing, all while also offering an estimated combined fuel efficiency rating of 30 miles per gallon.
To learn more about the 2018 Ford F-150 Diesel or any of our other new Ford cars, trucks and SUVs, please contact our Akins Ford staff near Atlanta, GA.