List of New Interior Space & Storage Features for the 2019 Ford Focus
Thanks to the wide array of all-new Ford models coming during it, we're very much looking forward to the 2019 model year here at Akins Ford near Atlanta, GA. Now, as we mentioned, there are a lot of all-new models coming during the 2019 model year, so there are a lot of reasons to be excited, but one of the main reasons we're so excited for 2019 is the all-new Ford Focus lineup. That's because the 2019 Focus lineup has been fully updated and enhanced to be more powerful, more efficient and more fun to drive than ever before. It's also getting a slew of all-new capabilities and features, which we're going to check out here as we list some of the best new interior space and storage features for the 2019 Ford Focus lineup.
[ READ MORE: 2019 Ford Fusion New Interior and Exterior Style Features ]
2019 Ford Focus Lineup at Akins Ford near Atlanta GA is More Spacious and Comfortable than Ever Before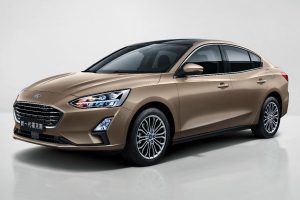 That headline may be confusing for some once they realize the overall dimensions of the new Ford Focus lineup at Akins Ford near Atlanta, GA, have not changed for the 2019 model year. That's confusing because the 2019 Ford Focus lineup provides you with more passenger space than the 2018 Ford Focus lineup. But while the overall dimensions haven't changed, Ford has redesigned the interior of the all-new Focus to better utilize the space that's available. They've done this by giving the all-new Focus lineup a longer hood and a cab-rearward interior to increase rear shoulder room by almost two-and-a-half inches, rear knee clearance by two inches, and rear leg room by almost three inches.
How has the 2019 Ford Focus Lineup's Redesign Made Room for New Storage, Comfort and Convenience Features?
The redesigned interior of the all-new 2019 Ford Focus lineup doesn't just mean more space for you, either. It also means there's now far more space for additional storage, comfort and convenience features. These include a new electric parking brake, a new rotary gear shift dial, a newly redesigned center console area and newly standard cushioned knee pads.
To learn more about the 2019 Ford Focus lineup or any of our other new Ford cars, trucks and SUVs, please get in touch with our Akins Ford staff near Atlanta, GA.