2022 Ford Maverick Bed Dimensions and Features
The 2022 Maverick lineup is on its way to the Atlanta area, and the truck's new FLEXBED™ comes loaded with storage solutions designed to handle household projects, furniture hauls, bikes, kayaks, and so much more. This guide reviews the bed dimensions and features that guests will find in the 2022 Ford Maverick when it arrives at Akins Ford.
Ford Maverick FLEXBED™ Dimensions
The cargo bed of the 2022 Ford Maverick measures 54.4 inches long – or about 4.5 feet. For reference, the Ford Ranger midsize truck offers a 5-foot or 6-foot bed. The best-selling Ford F-150 truck offers 5.5-foot and 8-foot bed lengths. The 2022 Ford Maverick will have a maximum payload rating of up to 1,500 pounds – the equivalent of roughly 37 bags of 40-pound mulch.
Here's a breakdown of the 2022 Maverick's cargo bed dimensions:
2022 Maverick cargo volume – 33.3 cubic feet
2022 Maverick bed length – 54.4 inches
2022 Maverick lift-in height – 30.1 inches
2022 Maverick bed width – 53.3 inches (42.6 in. at wheelhouse)
2022 Maverick max payload – 1,500 pounds
>> Read More: How Big is the 2022 Ford Maverick? <<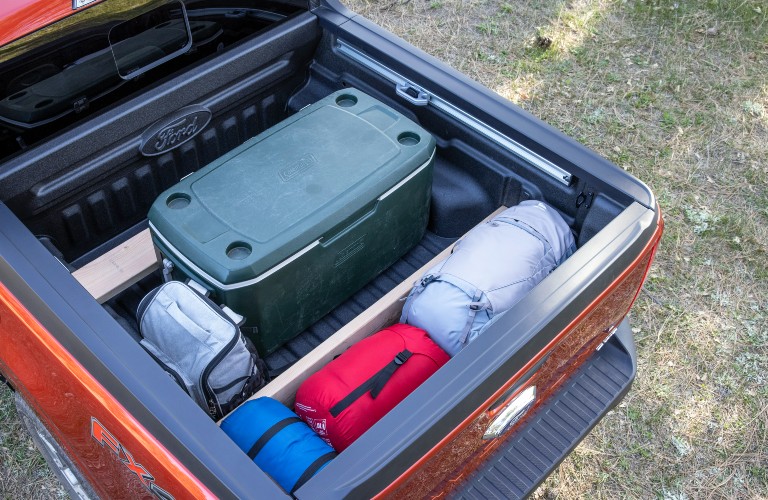 Cargo Bed Features in the Ford Maverick
The Maverick FLEXBED™ system is designed to provide versatile cargo storage and organization solutions with a multi-position tailgate, slots to use lumber to subdivide the bed, 12 available anchor points, and standard 12-volt outlets. In addition, the bed's rail caps extend from the bed up all sides of the bed for greater dent protection while loading and unloading from the sides.
Here's a closer breakdown of the Maverick FLEXBED™ features:
Tailgate Bottle Opener
Two 12V outlets
Optional 120V outlet
Eight 2×4 pockets
Two 2×6 pockets
Eight Bed Tie Downs
Four threaded DIY bed holes
Optional storage cubbies
Ready for the new Maverick? Ford fans here in the Atlanta area can be among the first to get theirs when they reserve a 2022 Ford Maverick truck online.