How Far Can You Drive a Ford Escape After the Gas Light Turns On?
By Product Expert | Posted in Ford Escape on Friday, December 11th, 2020 at 3:45 am
Ford Escape & Escape Hybrid Miles on Empty Tank
The dreaded gas light has a way of filling unsuspecting drivers with anxiety, but don't start panicking just yet. Most vehicles can manage to put quite a few miles under the tires before puttering out. Here, we look into how far you'll be able to drive in the Ford Escape after the low fuel light comes on. 
[ Read More: What Safety Features Are Found on the 2020 Ford Escape? ]
How Many Miles Will the Escape Go Once the Low Fuel Light Activates?
The Low Fuel Level light turns on when your Escape's fuel level dips to approximately 1/16 of a tank. On average, Ford Escape owners report getting about 35 miles more drive time once the Low Fuel Light turns on. Under the right conditions many drivers have reported getting as much as 50 miles on empty. Please note that gas mileage can vary significantly depending on the model year and trim level of your Ford Escape, so it's best to play it safe and refuel as soon as possible.
What Is Ford's Distance to Empty Feature?
Most newer Ford Escape models have a Distance to Empty (DTE) feature that lets you know approximately how far you can drive with the gas remaining. If equipped, this feature will generally display a notification when your vehicle's distance to empty estimate reaches 50 miles, 25 miles, 10 miles, and 0 miles. You can find your distance to empty estimate at any time under the Trip 1 or Trip 2 categories in your Escape's infotainment display. 
[ Read More: Resetting the Ford Escape Oil Change Indicator System ]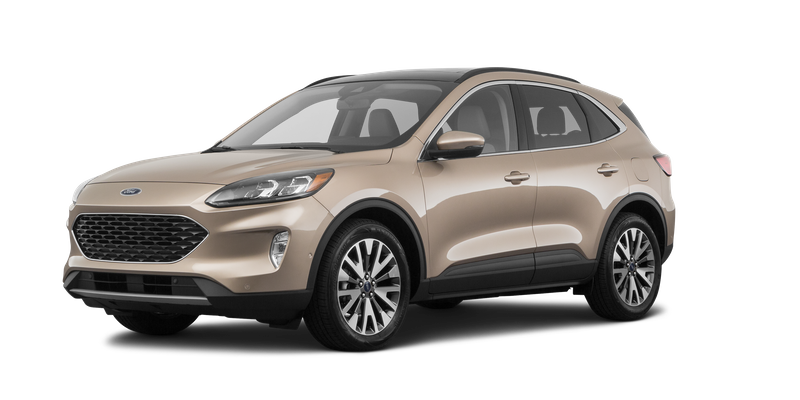 What About the Escape Hybrid?
Just like the traditional Escape, the Escape Hybrid displays a Low Fuel Level light when once your vehicle's estimated distance to empty reaches about 35 miles. Ford Escape Hybrid models provide separate Fuel Gauge and Battery Gauge in the instrument cluster display. 
| | |
| --- | --- |
| Gasoline Distance to Empty | Indicates the approximate distance your vehicle can travel on the fuel remaining in the tank. |
| Electric Range | Indicates the approximate distance your vehicle can travel on electric power only with the engine off. |
[ Read More: How Long Does It Take to Charge the Ford Escape Plug-In Hybrid? ]